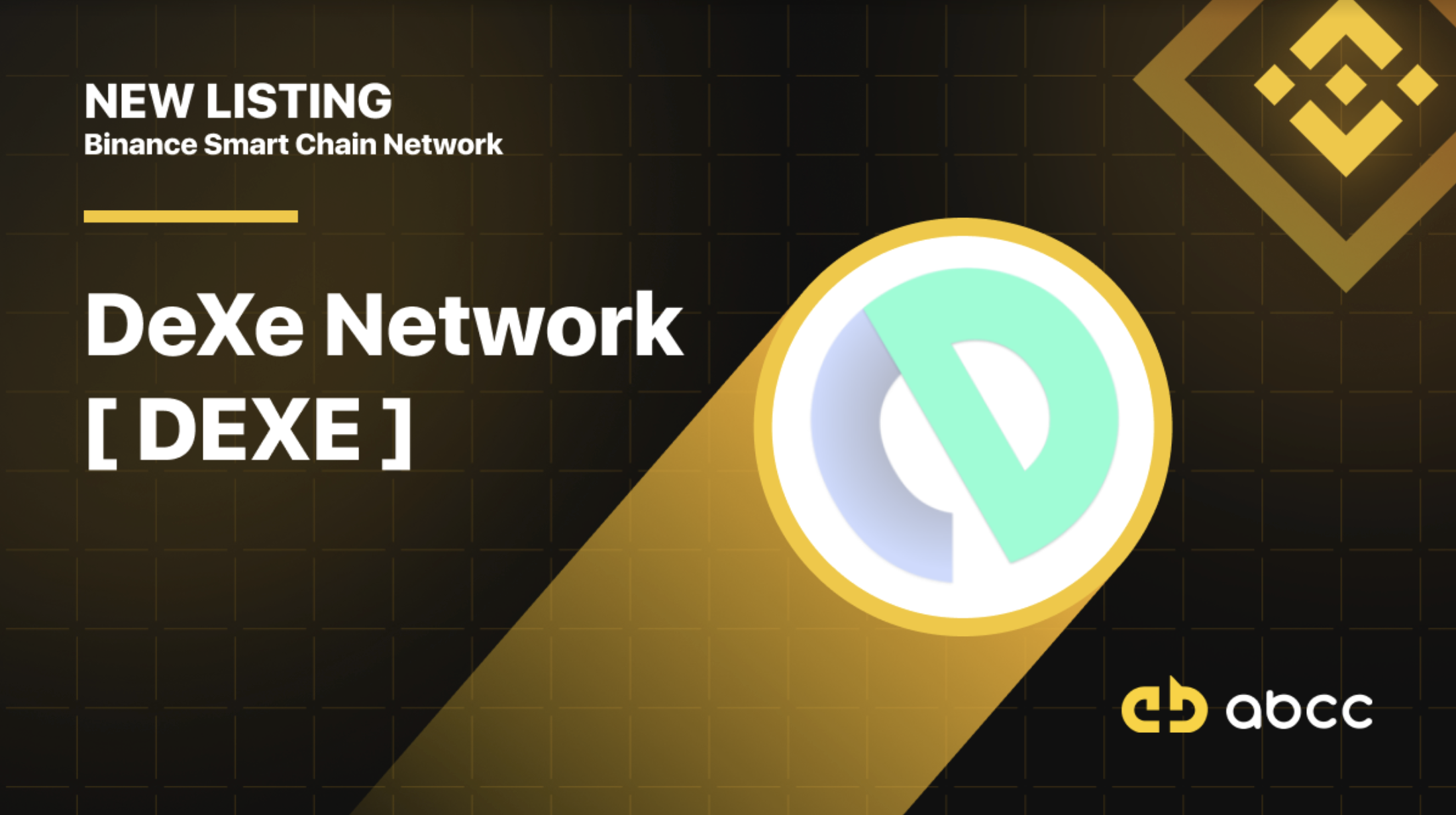 Fellow ABCCers,
We are excited to announce that ABCC has added a new cryptocurrency, DEXE, for trading.
This has increased our trading pairs to include DEXE/USDT.
Start Depositing and Trading DEXE through our platform and experience our full range of services!
More cryptocurrencies and trading pairs are coming soon.
About DeXe (DEXE)
DeXe Network is a decentralized social trading and asset management platform operated by the DeXe DAO. DEXE is the native token of the platform and is used for the following use cases:
Governance: DEXE token holders can vote on network governance decisions and must hold DEXE to participate in the DAO.

Rewards: traders receive commissions from strategy subscribers based on the success of their strategies. The DeXe smart contract receives 30% from this sum to automatically buy back tokens from the market, one-third of which are burned, one third are sent to an insurance pool, and one third are distributed to DEXE holders.

Insurance: users have the option to hedge against losses by staking DEXE tokens up to 10% of the value of their funds.
The platform consists of the following product components:
Wallet-to-Wallet Copy Trading: DeXe Network offers a flexible interface for users to copy the trades of any Ethereum wallet address they choose.

Social Trading Platform: subscribers can select traders based on a transparent set of performance indicators and pricing to allocate capital and have their trades managed by these traders.
(Source: Binance Research)
Circulation
Max Supply: 98,942,301
Circulating Supply (as of 22/09/2021): 3,424,468
Project Website
Contracts
Binance Smart Chain (BSC): 0x039cb485212f996a9dbb85a9a75d898f94d38da6
Start your easy and instant access on ABCC App:
Thank you for your support!
ABCC Team
October 7, 2021
Join ABCC Communities
Reddit: - https://www.reddit.com/r/ABCC/
Twitter - https://twitter.com/ABCCExOfficial
Telegram - https://t.me/ABCCExOfficial_en
Data Source: CoinMarketCap / CoinGecko
Risk Warning:
You should be aware that cryptocurrencies are subject to high price-volatilities. You are solely responsible for determining whether any investment, investment strategy or related transaction is appropriate for you based on your personal investment objectives, financial circumstances and risk tolerance. ABCC reserves the right to rescind and terminate our services to users in countries and jurisdictions where relevant laws and regulations apply.